Open Payments Analytics – A Powerful Catalyst To Pharma Analytics
Written By

Open Payments Data's history goes a long way beyond it was first released by CMS in 2013. The Sunshine Payments Act was promulgated in 2010, as a measure to improve financial transparency in transactions that medical drug and device manufacturers and GPOs conducted with healthcare providers (HCPs) and teaching hospitals (HCOs).
Before this data is placed on a publicly available platform (CMS), it must undergo a rigorous process via which it is:
Collected
Cleaned
Validated
Processed
Attested
Reported
If there isn't enough documentation to support it, or if the interpretation of category, nature of disbursement etc is subjective, disputes will be inevitable. It will also make the reporting process longer, and far more riskier for pharmaceutical companies. That's where spend data analytics and BI teams come in.
Data analytics solutions do all the messy number crunching and validation on behalf of client organizations. They transform numbers into insights, revealing spend patterns, history, outliers, and much more in their results. Each result is represented visually, so that decision-making takes place in a secure and confident environment.
Can You Survive Without Pharma Analytics?
Can you survive without pharma analytics?
Not if you:
Are a medical drug/device manufacturer and/or GPO in the USA
Wish to be compliant and transparent
Value organizational reputation
Want to stay competitive, efficient and proactive
Wish to gain maximum ROI against your spend data, across each category
Strongly prefer visibility across all your spend data
Analytics go a step beyond reporting spend as a function of performance. They help with forecasting, alert you (the pharmaceutical decision-maker) to underlying industry patterns and so on. They point the direction in which action must be taken.
Our organization, qordata, has developed Compliance Insights, a SaaS solution that provides you with all the answers you need to make the spend decisions you have to. Open Payments Analytics will primarily benefit sales and marketing teams in pharmaceutical companies. At the moment, qordata is in the midst of setting up a new analytics engine, specifically for monitoring pharmaceutical spend data for compliance.
If we talk about Open Payments (Spend Data and Compliance Data), detailed and newer analytics tools can be extremely useful and will make a significant contribution to current pharmaceutical analytics and in re-shaping the pharma and life science industry's technology needs.
Compliance Insights is a web-based analytics solution that comprises of dashboards that represent industry spend in various categories. These include spend by physician, company, specialty and competition, HCOs, and geography. I've described some of these dashboards below.
Analytics Dashboards available on Compliance Insights
Physician Analytics 
Not all physicians are key opinion leaders (KOL).
Conversely, some KOLs like to operate under the radar. The great thing about this dashboard is that it gives you a quantified reason to support, invest, or recede your spend in a specific physician. It also tells you how much funding a certain physician has received from your competitors, and the purpose (Research/General/Ownership) for which it was received. By studying the insights on this dashboard, you can know for sure if the HCPs/HCOs you choose will be right for your product.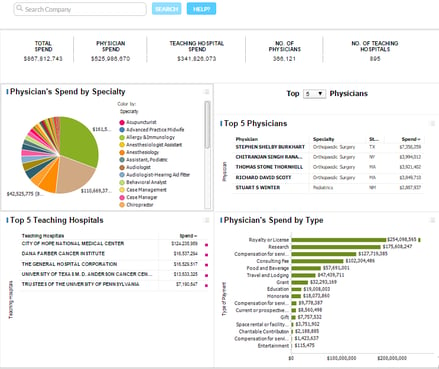 Specialty Analytics 
A competitive analysis, with more value. If you're trying to assess the performance of your drug, this dashboard allows you to compare spend in different specialty areas, by type, by payment category against physicians (HCPs) and teaching hospitals (HCOs).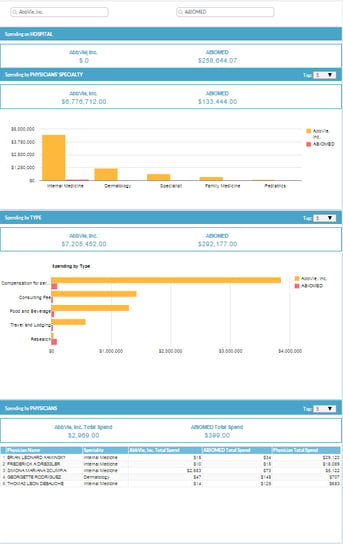 Geographical Analytics
Are your drugs being promoted in the right market? Is there an under-explored opportunity in a neighboring state? Or are your competitors more aggressive in a territory you don't have a presence in? Get the answers in this dashboard. It gives you a complete visual on all your spend queries based on geography.
If you're commercial team is unsure about where to invest next, or how much, this is dashboard you need to consult.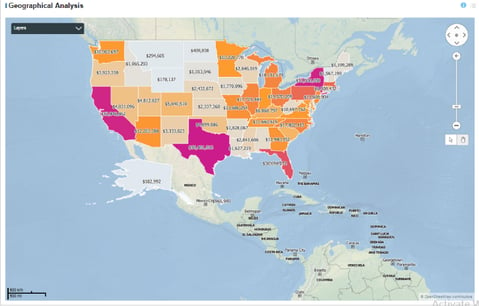 The dashboards we've added here can be viewed by registered users on Open Payments Analytics. Registration is quick and easy, and takes less than 24 hours. (And in the trial phase, it's 100% free). Book a demo today.